Due to Ink's nature as a decentralized cryptocurrency, it's designed to be used both on and outside of Listia. The goal is for Ink Token to become a widely used method for buyers and sellers to transact, with support on many different marketplaces.
To support and encourage this, Listia offers two brand new features that were previously not possible with the closed, credit-based system.
Deposit Ink
While we transition to using Props on Listia, we've temporarily disabled new XNK deposits. Once the integration and launch are complete, XNK deposits will be re-enabled.
Withdraw Ink
Listia provides the ability for members to send Ink in their Main balance to an external Ethereum address.
To withdraw your Ink, you will need an Ethereum wallet that supports XNK (see technical details) to receive the funds. Set the amount you wish to withdraw, specify your external wallet's address, and Listia will initiate the transfer.
Some details about your transfer:
DO NOT send XNK to your Coinbase wallet because Coinbase does not support XNK.
All Ethereum transactions incur network fees. Listia members will pay a small amount of Ink to offset those costs. Fees are typically less than $1.00 (in Ink) and often times much lower, depending on network conditions.
Transactions take some time to be confirmed on the Ethereum network. Confirmation times can be as short as 10-15 minutes, and rarely exceed a few hours.
Once the Ink has been withdrawn, the action cannot be undone and Listia no longer has access to those funds.
You may receive an identity verification request from Listia in order to process your withdrawal.
Ink that you withdraw to an external wallet no longer exists on Listia, and is in your complete control.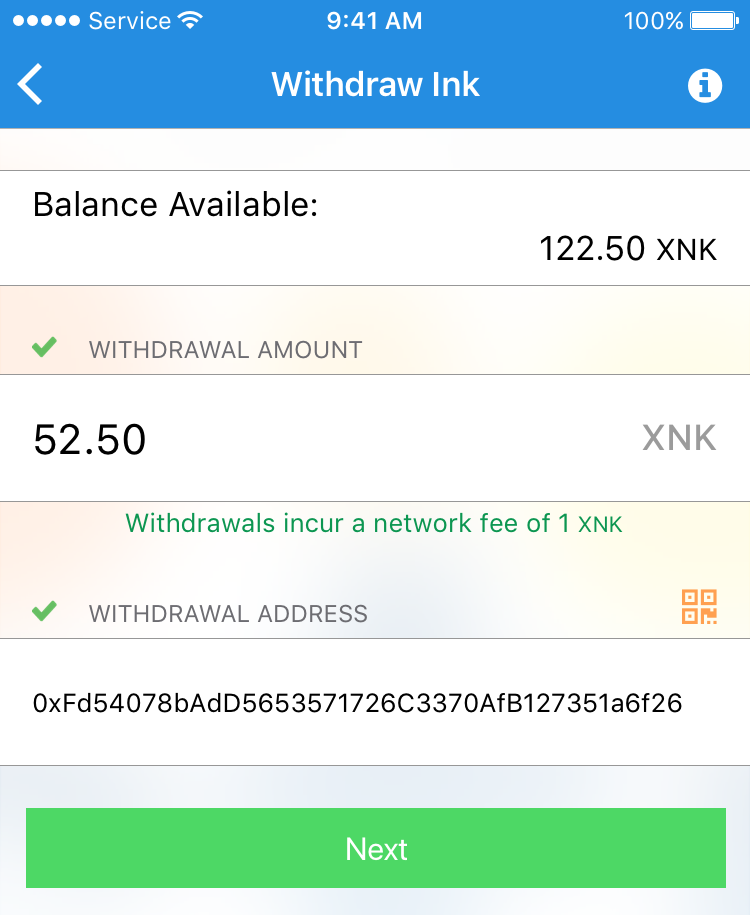 Wallet Partners
Ink has partnered with Monarch which provides an easy, secure wallet app to hold your XNK and other cryptocurrencies. You can download the app for iOS, MAC desktop, or Windows desktop.